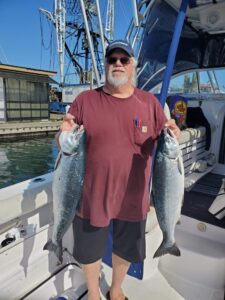 Our Puget Sound Blackmouth fishery is on hold, but there are some late fall opportunities around.  This talk will focus on salmon fishing in Grays Harbor. Lots of nice Coho to be caught, and they have some big kings in there as well, but it's C&R.  Ron Garner will be presenting and let us know what to expect if fishing this area.
Grays Harbor is a very popular small boat fishery, especially for large chinook and coho salmon. Major access points include the 28th Street Ramp, Westport, Ocean Shores, and Johns River. The protected nature of the bay allows small boats access to some exceptional salmon fishing.
Raffle Prizes! We'll have some fishy raffle prizes for winners, and always have a members-only prize.
Meetings are free and open to the public! Kids of all ages are welcome!
If you are coming to the meeting hungry, we'll have pizza slices or hot dogs with chips for $2, soda for $1 and h20 for $0.
PSA: Don't forget to get your Big Fish Contest entries in.  End of October is the deadline to make it in for big fish prizes and a shot at the raffle.